Interview with Digital Artist Thomas Tibitanzl a.k.a. deZane
Thomas Tibitanzl, or deZane, his artist name, is a self-taught Digital Artist and Designer who currently lives in Munich. Thomas grew up in the golden city of Prague and at an early age he established with his family in Germany.
His work covers both graphic, web and print design. Thomas expresses his art through thought-provoking and narrative artworks. His creations are based on original concepts, complete stories with deep messages, trying to encourage the viewer to think for himself. deZane's artworks have been described as "fluid renderings of alternate universes, dreamlike sequences of juxtaposed landscapes."
His works have been featured in magazines such as Advanced Photoshop UK, GER, NL, artzMania, Blanket Magazine, Digital Arts, Initiativa Colectiva, NewWebPick, Photoshop Creative UK, PixelArts, Semi-Permanent, Territory Magazine and more…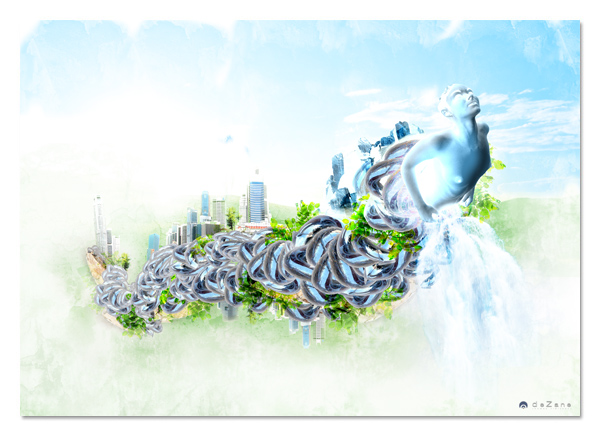 Find out more about Thomas in the interview below.
When did you start your career as a designer?
Well I was interested in web & graphic design in my early teenage days, because I really wanted to have my own website, so I started to learn and experiment in Photoshop followed by Flash. After many years of training, learning and experimenting I created lots of personal websites.
When I have reached the point where I was satisfied with the result, I started to persue my other interest that is Digital Art, to build up my portfolio…
What is your educational background?
I have studied and graduated Media Design at a graphic design school, but I call myself a self-taught, because I started as a teenager and already knew the stuff when I attended.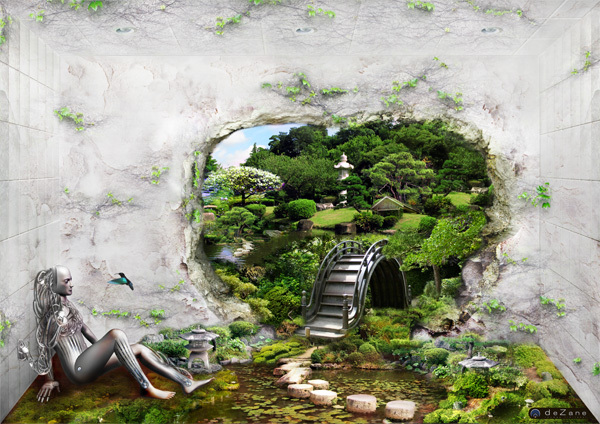 You've surely worked on several projects so far. What would be the most relevant ones?
Well I consider every project to be equally important, I try to give my best shot in every each of them. It is up to the viewer, other people should judge my work.
But I am working on my new online shop ( ver. 2)  where people can buy my artworks. You have the option to choose different print versions ( Poster Print, Canvas Print, Acrylic Print ) using the latest print technologies in gallery quality.
The relaunch of my online shop will hit the internet very soon!
Can you name 3 designs from your portfolio you like the most?
Like mentioned earlier, I value all of my artworks equally, the viewer should decide and judge…
Our readers would definitely love to know what hardware and software you use when you create your designs?
I have build my own Shuttle Barebone SX58H7. I really dislike the oldschool tower pc's, they are just too big and the design is outdated. Once you get used to small/mini-pc's you never ever want to switch back.
My cube owns a Intel Quad Core i7, 6 gigs ram and a Geforce 260 GT. In the future I will upgrade my machine with a fast SSD when it's not so expansive and getting more ram. If you create large sized artworks , it is the most important factor to have a fast HDD ( in this case SSD is the fastest ) lots of ram and a 64 Bit OS and the software to run a smooth environment.
I create my art on a 24" Asus ProArt 246Q and a 19" Nec Multisync Monitor with software that includes Photoshop, Illustrator, Cinema 4D and Poser.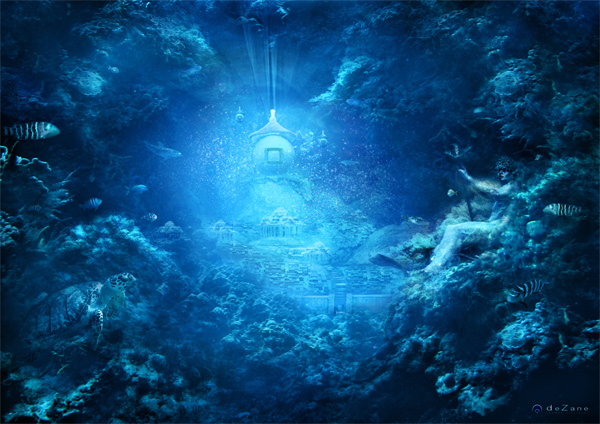 What are the things that inspire you? Can you name a few websites you use for inspiration?
Well I guess I am inspired by my lifestyle, self-education, by experimenting, by art and design in general, by music and films, by the environment and how things progressively devlope in the future. I am following the digital art community and visit art groups when they release their new chapters.
When you began your journey as a designer you probably had a few role models, would you name two of your favorite artists?
I really like most of the artists & designers in art groups like depthcore, evoke, intrinsic nature, slashTHREE, The KDU and others I forgot to mention…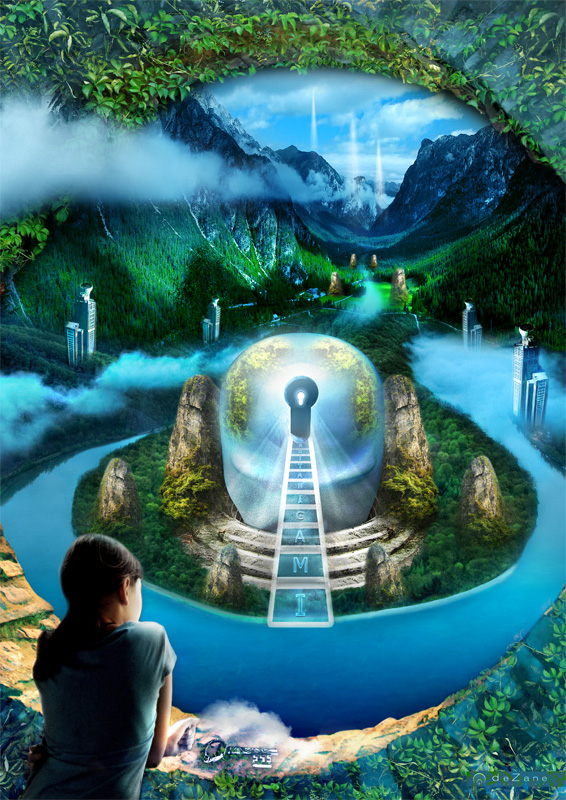 Designing has its ups and downs, what is the most difficult problem you've ever faced as a designer?
To have the patience, endurance and confidence to complete it.
Many people think when you are a professional or good at something, because you have the skill, that it is easy to do so, but that is not completely true. Every single project is a new challenge where you want to give your best to progress. Sometimes you are frustrated and fight with yourself, because of having not enough patience and endurance or when you are at a point where you lose hope, when the project is difficult or complex. But it is always a relief and joy when you finally finish it, in the end the effort pays off and other people will immediately notice, that you put your passion into it. So I am certain that when you are disciplined enough to easily overcome these burdens, your full potentional will arise. Also they are so many artist and designer that you want to stand out from the mass, in creating something original and innovative that is mesmerizing, be it an interesting concept/idea or a cool composition. For me personally, it is important that a work has a function or a purpose, I build my artworks upon my visions that I interpret with interesting concepts that contain a story or an important message. You can be a technical wizard but it doesn't help you when the work feels empty…
Looking a bit into the future, how do you think people will look at your designs in four years from now?
I hope that people will remember my work in a positive way and get my message, I also think it is the greatest achievement for a designer or artist if you inspire others and conquer their hearts =)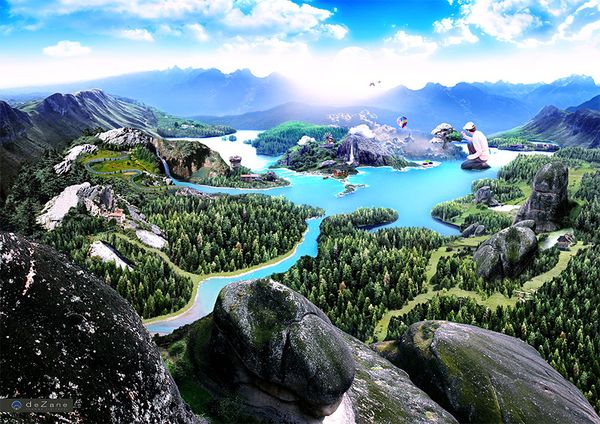 What do you think your greatest achievement is so far?
I guess my website with my existing portfolio.
How much free time do you have in a week and how do you usually spend it?
After work most of the people spend so many hours watching TV, I abandoned this curse a long time ago so I have lot of free time to do other more important things. For example when I visit some friends and see what the TV is airing nowadays, it is just mindless trash. I mean come on, all those dumb reality and TV shows, even the mainstream news are bending their news how they like to. In this area of time everything is on the internet, you have much more freedom and choice to educate yourself through this medium. So to speak I spent my free time in general on personal projects, like creating new artworks or design some other things to pursue my goals.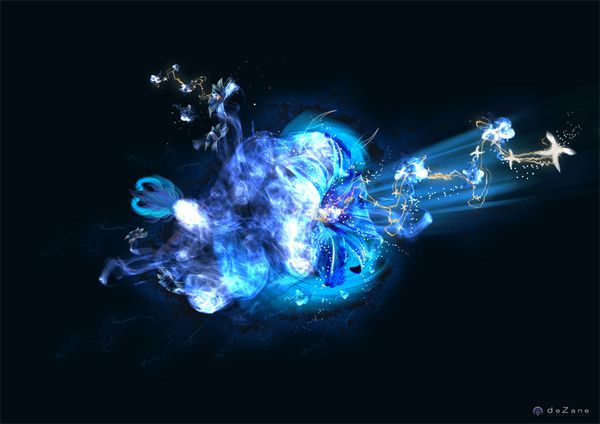 What is your favorite PC game and how many hours do you spend playing it?
In my teenage days I played a lot of Quake 3 Rocket Arena and Starcraft Broodwar online, in my opinion these games are the best ever created in terms of having the skills when you play on a competitive base. But I quit with games a long time ago, I am not interested anymore nor do I have the time. I am focused and interested in my hobby that later became my job, I just love to create new artworks and designs, it is like a drug that never wears off ;-)
I really liked this design. What inspired you to create it?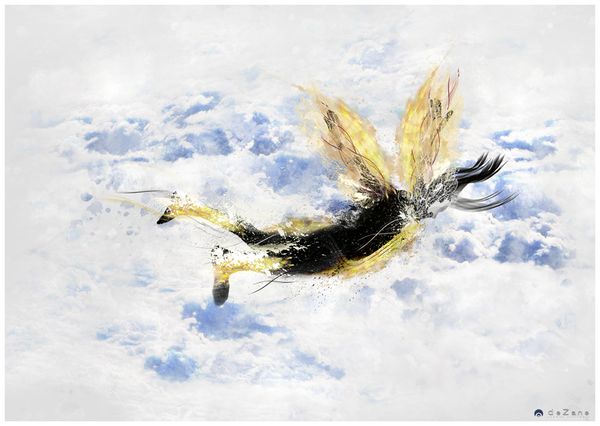 This artwork is one of my early works titled "The Fall", it is based on a greek mythology. The title pretty much says it all, what it is about…
What advice would you give to the newbie designers?
It is a long and hard learning process until you feel comfortable at what you are doing, but the results will speak for yourself and your inner voice will guide you onto the right path. Nobody was born as a prodigy, everyone went through the same procedure, even professionals learn everyday, it is a never ending cycle that's why it is so thrilling.
There is no formula or secret, it is just hard work, passion, dedication and how much effort you put into your work…
Thank you for this interview!
Where you can find deZane on the internet:
Website – my personal website with portfolio and latest artworks in high resolution and full details.
Behance – my Behance profile, with detail shots of my artworks.
Bluecanvas – my Bluecanvas profile
DeviantArt – my Deviantart profile
Facebook – my Facebook fan page, if you want to become a fan and get the latest news.