25% Valentine's Day Discount and Treasure Hunt at Designious.com!
Great news from our sister site Designious: they've launched a shiny new 25% discount on all products, so you can stack up on whatever resources you need for the upcoming Valentine's Day celebration, and much more. That means you get to take your pick from all the cool vector packs (regular size, mega and giga packs), Photoshop brushes, kick ass T-shirt designs and fonts – and save money at the same time. If you don't believe us, just take a look yourself.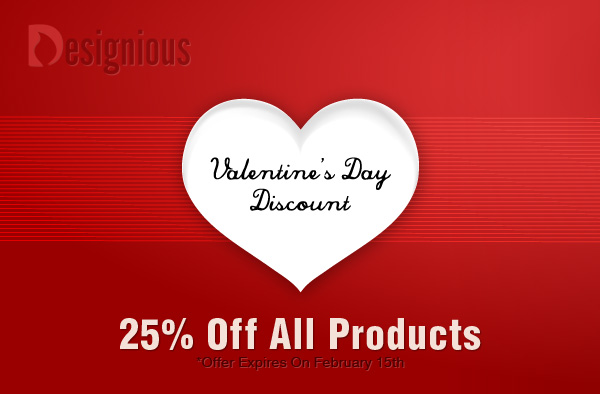 I bet you're wondering what the treasure hunt involves. 3 individual products have received a 100% discount  and have been "hidden" among all the others – you have to search through the library on Designious to find them. And well, finders keepers – if you know what I mean. Take your chance and go through Designious' vectors and brushes to find (and instantly download) the design goodies.
And a small hint from one of our colleagues to make it even easier: It's very simple to create Valentine's Day designs with teddies and flowers, but try to make an attractive one out of skulls and bombs.
P.S. If you manage to make a Valentine's illustration out of skulls and bombs, drop us a line in the comments with a link to the image. We're really curious.