Free Vector of the Day #133: Corner Speech Bubble
Today's free vector is a clean and stylish corner speech bubble.  How it's made: draw a random wavy line, then hold SHIFT to create the corner. Duplicate it above, add an inner offset and recolor it. For the shadow, copy the shape again and distort it, then use a midtone yellow to color it. to add a bit of smoothness, add a distorted radial gradient right below the edges. You could try to understand what I wrote or you can just download and check out the parts yourself, it's not merged.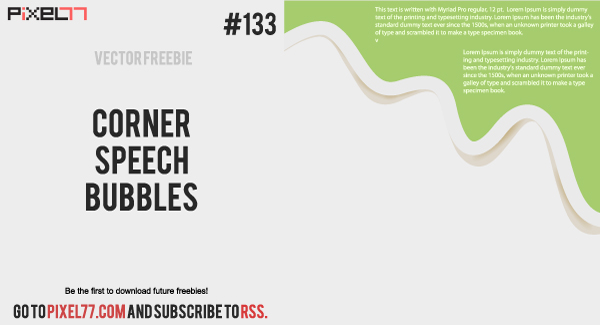 Tell us where to send the freebie:
I agree to receive newsletters from Pixel77 and its network. We never spam, sell or rent you email address. You can unsubscribe at any time.
By clicking the button below, I agree with the
Terms & Conditions
.