Four Reasons Why You Should Use WordPress to Build Your Website
You have decided to build a website yourself, but you are unsure which interface to use. There are so many available these days that it can be difficult to choose between them. Read on to discover four great reasons why WordPress should be at the top of your list.

1. Simple Dashboard
WordPress is one of the leading website-building interfaces. It is built around the principles of ease of use: flexibility and community. As soon as you arrive at your dashboard for the first time, you will be offered help and assistance with all aspects of your site. The dashboard is designed so that you can monitor the contents and activity of your site at a glance; it's worth logging in and checking on the site every day, especially to ensure that you have the latest version of WordPress installed.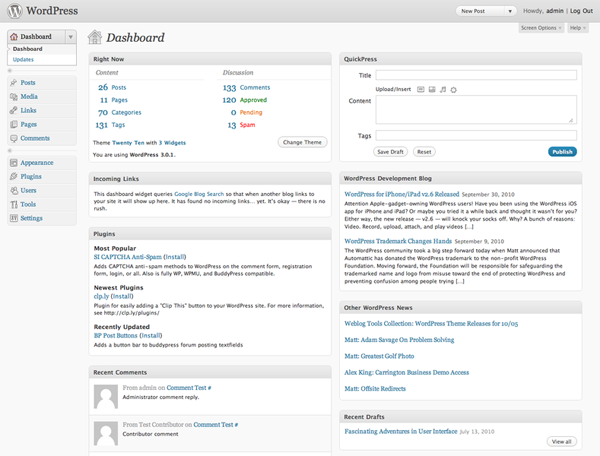 From your dashboard you can create pages and posts, change your general settings, monitor user activity, adjust your WordPress theme and template and much more. It's vital for you to be become acquainted with the dashboard, as this is the control tower of your website. Make changes one at a time, and review your progress with regular visits to your front-end site. Avoid changing the HTML or CSS code of pages unless you are highly confident in your ability. It's far better to stick to the user-friendly "What you see is what you get" interface.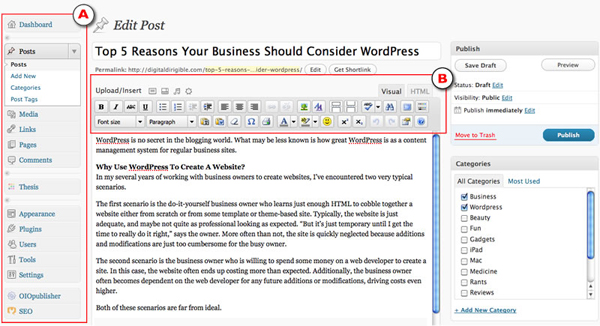 As your site becomes bigger and introduces more functionality, your dashboard will grow to accommodate these changes. Don't be alarmed by this; all of the original options will still be available.
2. Flexibility
WordPress is a fantastic interface for all types of websites. You can design a simple blog, a five-page site, or even a commercial site with multiple layers and functions. The possibilities for visual changes to your site are also endless; you have total control over colors, fonts, page layouts, and overall structure. You can make adjustments to individual pages by adding media such as images or videos, and you can implement shopping carts, picture galleries, product pages, review pages, and any other function you require. Add to this the fact that WordPress can be linked to your social media accounts, such as Facebook and Twitter, and you have the ability to reach a huge online audience through your site alone.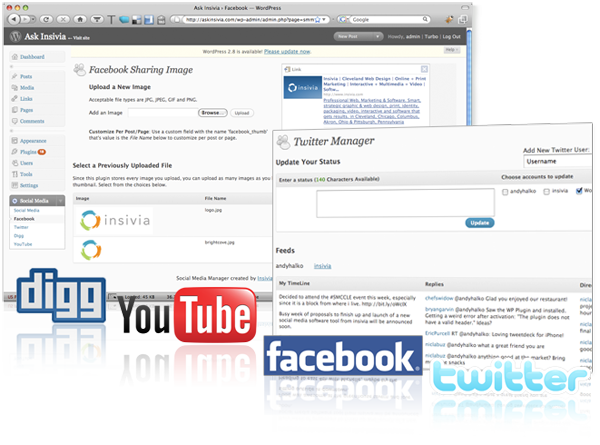 WordPress' flexibility extends to the user experience on the front end of your site – you decide if visitors are permitted to sign up as users or leave comments on particular pages. As far as security is concerned, there are many features that can help protect your site from hackers and spammers; all you need to do is choose the settings that are right for you.
3. Plugins
WordPress is not limited to its own features and dashboard. Web developers have produced thousands of plugins that you can install to enhance your site. Plugins are the pinnacle of the WordPress experience, allowing you to take your site to a new level of personalization and custom features. For example, if you need to incorporate PayPal payments into your site, simply install one of the many PayPal plugins. If you need to ban certain IP addresses due to excessive spamming, you can install the relevant plugin and this feature will be activated.
Each plugin on the WordPress database has a star rating from other users, so you can see instantly which ones are worth installing. There are also many plugins available that are not listed on WordPress; you can download these directly from the developers' websites. Be careful if you install an external plugin, as there may be bugs and problems in the code. A quick Google search will reveal whether a plugin is useful, reliable and safe. If you are in any doubt, don't install it.
4. WordPress Community
If you experience any kind of problem with WordPress, it's likely that someone else has already experienced the same problem, and has been given help to solve it. The WordPress online community is a valuable resource for all users, and you can benefit from the expertise and advice from people all around the world. If you are determined to change some code on one of your pages, but are unsure how to go about it, search for tutorials written by experienced professional programmers. The information is out there, but proceed with caution, as code changes can affect the overall functioning of your site.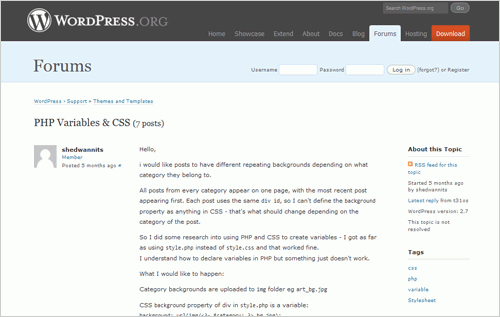 Read and absorb what others have to say, and give your own contributions if you think you can help. The reciprocity of the WordPress community is one of the keys to its success.
As long as you keep your version of WordPress updated, to help protect you against bugs and viruses, you should find that this interface is simple, effective and infinitely adjustable to suit your specific website needs. What is your take on the subject?