WordPress Plug-ins for Successfully Managing an Editorial Team – Part 1
Tweet
WordPress which was initially developed as a blogging tool, but is now a fully fledged CMS with thousands of plugins, themes and a thriving ecosystem around it.
Content Companies and Marketers who are using WordPress to manage content production are now facing the challenge of scaling their activities to the enterprise level. They are just juggling with spreadsheets, online and desk project management tools with WordPress. Some are even thinking to move away from the open source CMS.
I strongly believe in the saying that "the bigger the inefficiency, the bigger the opportunity for disruption". Following are some of the WordPress plugins and platforms which are exploiting this opportunity and creating solutions for helping small to medium publishers increase the efficiency of their editorial content production.
Recommended Plug-ins for successfully managing a Multiple Writer Team
1. Content Cloud
Content Cloud is a SaaS (Software as a Service) platform for WordPress sites launched by Betaout. At a first glance, the platform seems impressive and the best part is that you can even try it out without opening an account, with their online demo which is fully functional.
With Content Cloud, you'll experience that you're not just using WordPress; instead you're working on a fully featured and customized editorial workflow system. As a publisher or a managing editor you have to have complete control over your content production process, with the power to both manage and share resources across multiple sites. Content Cloud automates the entire administrative task, making the editors more productive and highly efficient.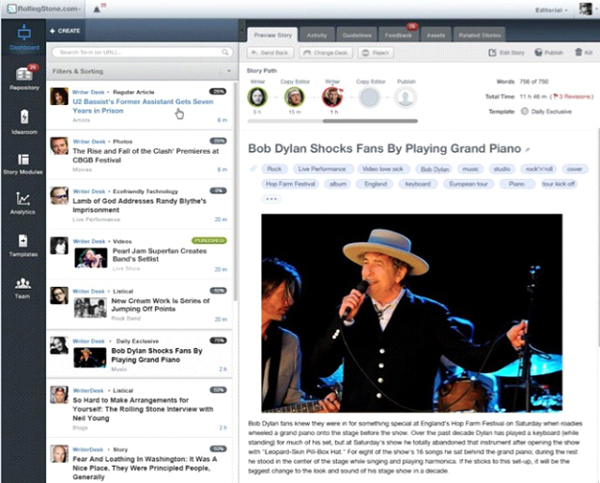 The interface is very intuitive and easy to adapt to; and their help desk was prompt enough to answer my queries. Still, I would suggest that the team come up with some video tutorials for those who are still new to the editorial workflow.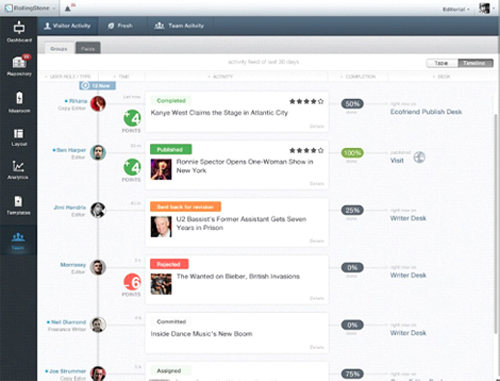 Overall, I have found it to be one of the most efficient editorial project management tool currently available.
2. Edit Flow
Edit Flow is a widely popular WordPress plug-in ideally suited for blogs or websites having multiple authors and editorial teams managing the content. As some of us already know, this plug-in helps in redefining the editorial workflow by allowing mutual collaboration of the editorial team within the WordPress platform. It's also suitable for teams with editors working on different time zones, as its calendar feature helps synchronize the mutual content in an effective manner. I also liked the automatic notification which makes sure that the communication channel between different members is not subjected to any delays.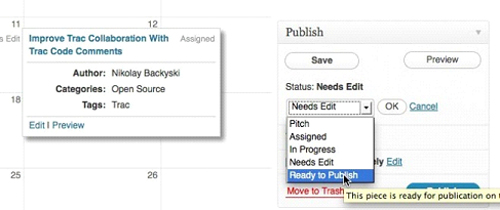 3. Content Progress
The widely used Content Progress plug-in is in my opinion quite an interactive tool, ideal for editors and writers. It adds icons to the content list marking out the complete, incomplete and work under progress links. It's essentially useful to know whether there is any content on any particular page. The plug-in also helps in sorting out partial content pages and allows admin to flag a document which needs more content or editorial revision of any kind.

4. Editorial Guidelines
When it comes to handling in-house editorial teams for multiple writer's blogs and websites, Editorial Guidelines can help you out to a great extent. This plug-in makes me feel that the life of an editor gets quite simple by allowing writers to have a look at the exact article or post specific editorial guidelines issued by the editor or the publishing team. The biggest advantage of this particular plug-in, apart from being able to send individual guidelines to different writers is that the guideline section is editable and can be further used to send the guideline for a broader author base in the future.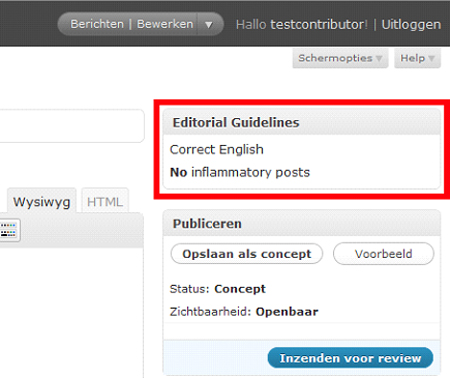 5. Approval Workflow
The Approval Workflow plug-in is another plug-in that successfully embeds a serene workflow progress in multiple authored websites and blogs. It not only verifies whether a particular user has the right to publish a specific webpage or web content article, but also notifies the author with publishing rights once a post has been submitted successfully to the workflow. And it uses automated email campaigns to do so.

I hope these plug-ins will be of great help in churning out maximum ROI out of your WordPress Editorial Strategy.