Interview with digital artist Arie Prajoedi from Emptees
Tweet
Arie Prajoedi is a very talented illustrator from Indonesia currently living his life as a designer at Emptees. His T-shirt designs have a unique style, all with a touch of darkness, blood and insanity, harmoniously blended with vibrant, high-contrasting colors in strong tones of green, blue or red. Sick ? twisted? Awesome? Exhilarating? It's the art of Arie Prajoedi.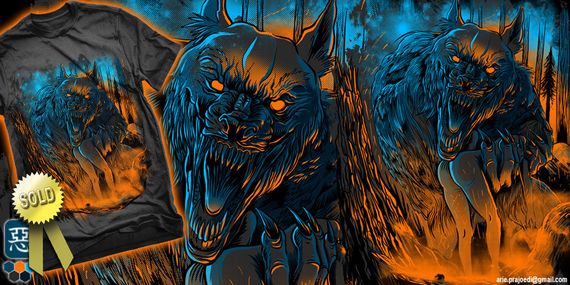 What was your starting point for your career as an illustrator ?
I started designing around the year 2000. I was designing  stickers, posters and flyers. In 2004, I started designing t-shirts for the local brands, then I became a freelance designer for a local magazine in 2006 and before I joined Emptees, I worked as a wedding photographer at my own place. Some of my works can be seen on my Deviantart profile.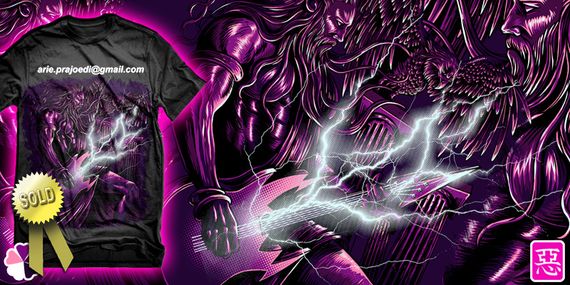 What is your educational background?
I studied Law Faculty and also graduated from Diploma of Art in an University in Indonesia.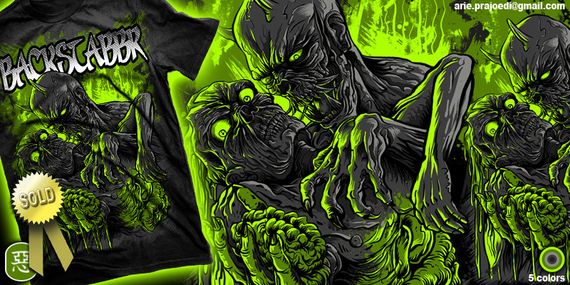 You've surely worked on several projects so far. What would be  the most relevant ones?
So far, I've done PHOTOGRAPHY and Digital imagine, and shirt design.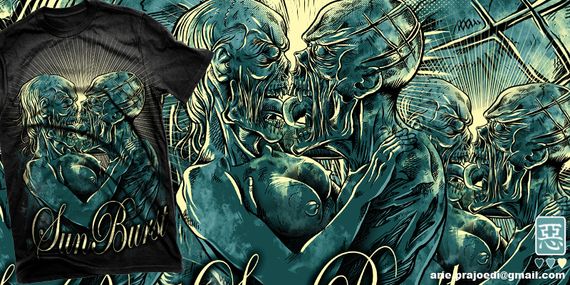 Can you name 3 designs from your portfolio you like the most?
I love "Santa Claus in Japan", "As blood runs black" and Seppuku 2.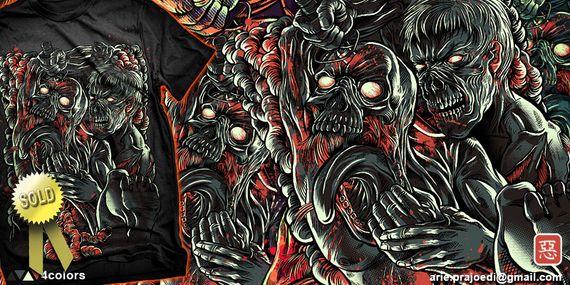 Our readers would definitely love to know what hardware and software you use when you create your designs?
I use Adobe Creative Suite 3 (CS3).  The tools I use are pencils, paper and a drawing tablet old model (Genius).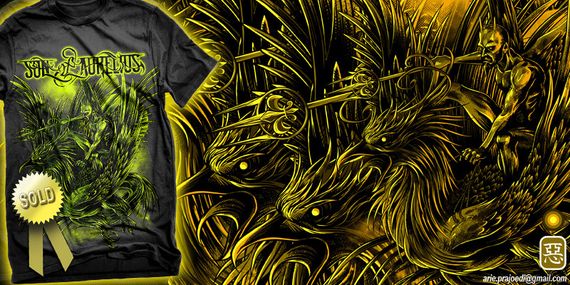 What are the things that inspire you? Can you name a few websites you use for inspiration?
The things which inspire me are my dreams: living peace and fun.And the website that inspire me is Emptees because I learn a lot from them. Many spectacular designers have extraordinary works that have rendered me speechless. People in Emptees are also very good critics and highly educated.
When you began your journey as a designer you probably had a few role models, would you name two of your favorite artists?
My favorite artist is Hisashi Tenmyouya, he's brilliant in mixing many elements  between Japanese culture and modern elements. Or in other way, Asia Vs Western.
Also Greg Capullo. No doubt about his works which inspires many illustrators and designers around the whole world. I really want to be like him, but of course I can't. So, the best thing is stay to be my own self.
Designing has its ups and downs, what is the most difficult problem you ever faced as a designer?
I think now I'm facing this thing:Â  I'm doing an album cover project for major label band in Indonesia. They ask a lot of revisions, even when the design is almost done, they ask for the new design. Things like those are often confusing, but to fulfill customer needs, I am willing to do that. And this is a great challenge for me. Besides, the pay is good (: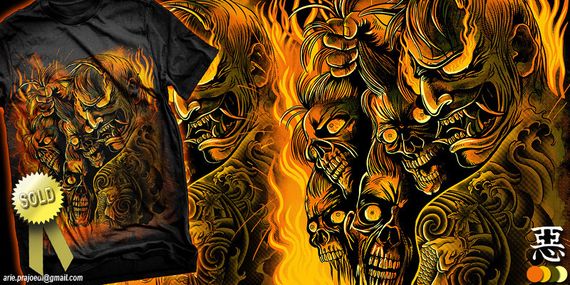 Looking a bit into the future, how do you think people will look at your designs in four years from now?
I think, the world of design will continue to grow in the following era. And it will be possible that people will think my designs are outdated.  As long as I keep giving a touch of culture, it's possible that my kind of designs right now can survive at least in the next 2 years. Because cultural things are everlasting, in every civilization.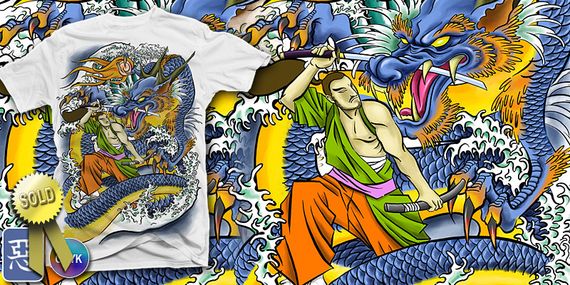 What advice would you give to the newbie designers?
Being a designer is not easy even for the professionals. They have to work extra hard to produce a good work. So, for newbies, learn from the basics and the theories because they're very important. and don't copy anyone's works, respect their hard work. They struggled for it.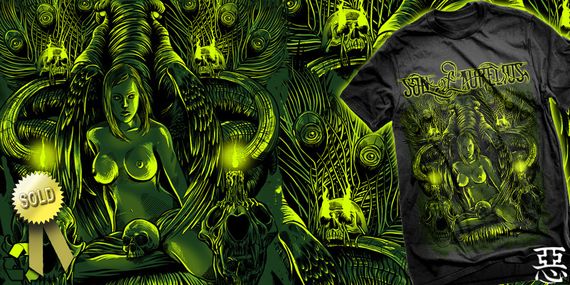 What do you think your greatest achievement is so far?
The greatest achievement is when my clients are satisfied. That is the most important thing of all.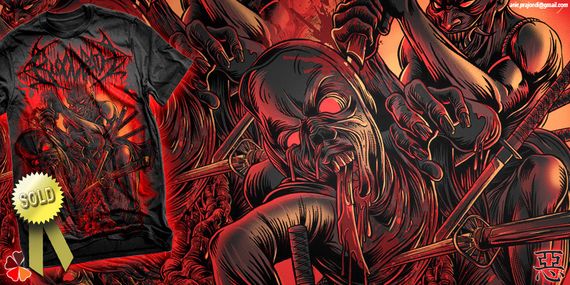 How much free time you have in a week and how do you usually spend it?
I always spend my time in afternoon or after I've completed my target in a day. Usually I go out for fresh air or hang out with my friends or play PS3.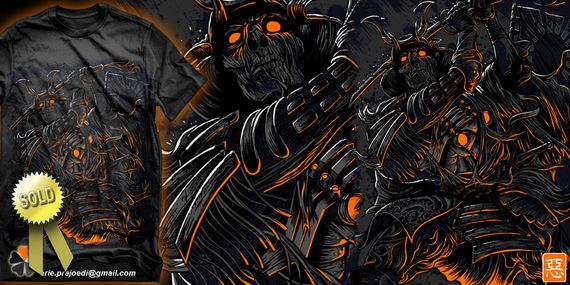 What is your favorite PC game and how many hours you spend playing it?
Not many PC games, because I play PS3. Mostly fighting/action games like Tekken 6, Soul Calibur, Resident Evil 5, GTA 4, Pro Evolution Soccer 2010, Modern Warfare 2. I play games when I feel tired working on designs or when I feel frustrated and I feel like I want to beat someone. So I do it  in Tekken 6. LOL.
I really liked this design. What was your drive to create it?
I was inspired by Hisashi Tenmyouya,  combining work between Western Asian culture. After all, I really love dragons, in Asia they are protector of life, fertility, and good fortune. That's why I put a tengu in Santa's outfit along the dragon; I created this design for Christmas.